Staying a Week at the Azul Beach Resort in Negril, Jamaica
Last updated on June 30th, 2023
Welcome to the Seven Mile Beach along the beautiful west coast of the Caribbean island of Jamaica! This is Jamaica's most beautiful beach and among the best locations for your next Caribbean R&R destination. No wonder Negril is home to some of Jamaica's top ranked resorts along the wide stretches of white sand and turquoise waters. And here's where we spent seven glorious days in November at the notable all-inclusive Azul Beach Resort Negril by Karisma!
Travelling during COVID? This was our first beach trip since the pandemic started and there were some things we had to keep in mind as well as prepare for before we made our way to Jamaica. The country's office tourism website is extremely clear on how to prepare for your trip pre-arrival, what to be aware of when travelling within the country and what to know before you leave the country. Go to visitjamaica.com/ for all the up-to-date information!
Azul's Beachfront Honeymoon Suite
The Beachfront Honeymoon Suite is one of the higher tier rooms on the resort. It features a King-size bed with balcony access; a large ensuite bathroom with a double vanity and a massive tiled rainwater shower; a grand living room; and a second full bathroom by the front door with yet another shower. The living space is huge for just one couple but we took great advantage of it. Both the bedroom and living room have their own wide flatscreen TV's, and the living room also has its own French doors out to the large corner balcony.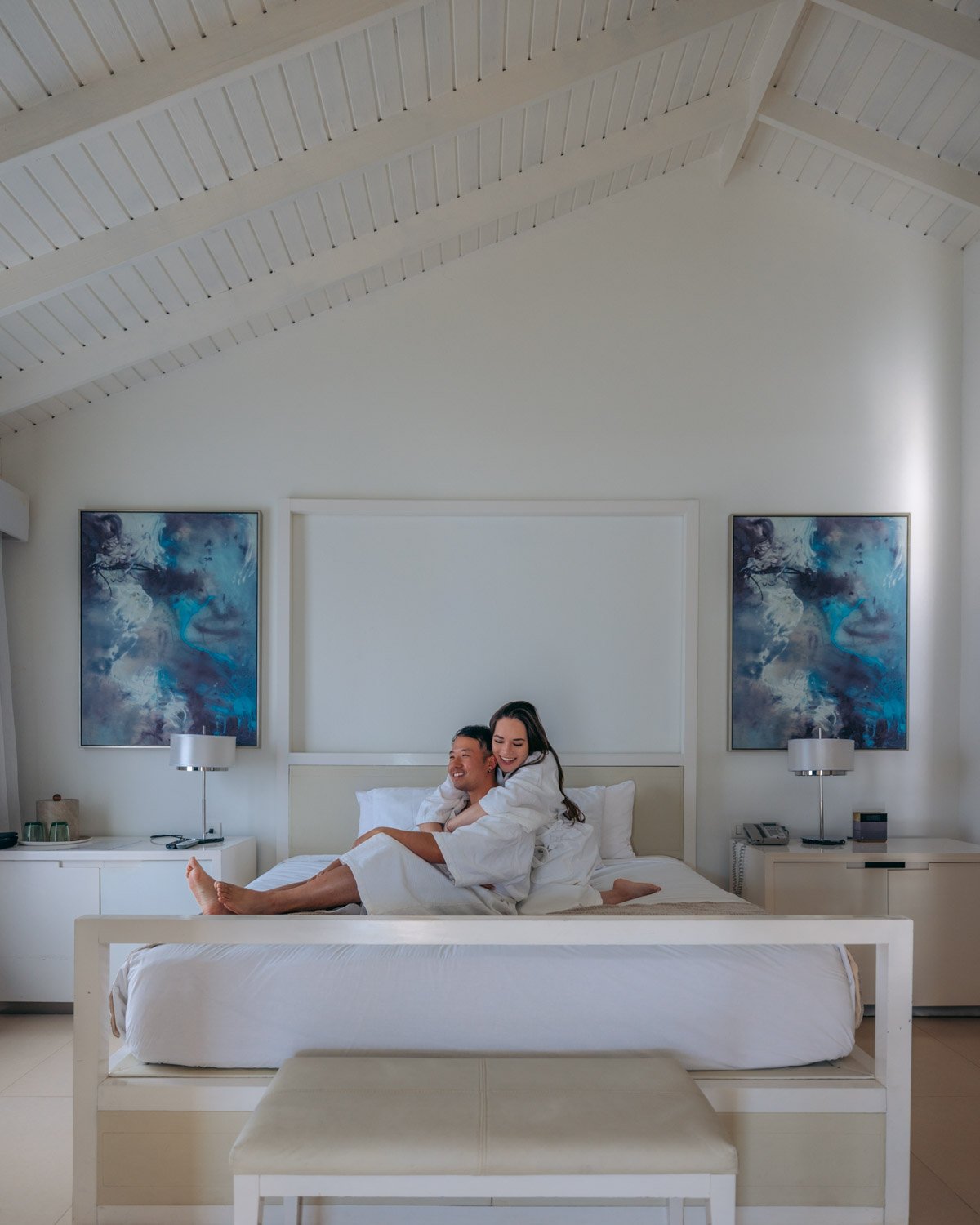 Azul's Beachfront Honeymoon Suite really shows off its grandeur with its high vaulted ceilings, as the suite is situated on the top floor of each building. The vaulted ceilings also extend over the balcony, which itself also covers a great footprint and provides a panoramic 270-degree view of the beach.
We loved how easy it was to fly our drone straight from our balcony and catch gorgeous aerial views of sunset before we set off to dinner. Taking it all in from our balcony's love seat was the perfect way to start and end the day. But our honeymoon suite was showing signs of age, some small damage here and there and the furniture was becoming on the brink of outdated. It is to be expected, but we hope that Azul attends to these concerns soon for future guests to enjoy their stay to the fullest.
Dining at Azul Beach Resort
For the size of the resort, the dining options we had were more than we expected. There are dinner spots that require reservations in advance as they have limited seating and an à la carte menu, but you could always depend on the buffet restaurants to provide you with a table, a filling and delicious meal and great service.
The restaurants and bars we frequented are:
Di Romagna – Italian à la carte dining open for dinner
Hua Hin – Thai and Asian fusion à la carte dining open for dinner
Ackee – Jamaican à la carte dining open for dinner
Mahogany – buffet style open every day for breakfast, lunch and dinner
Palms – buffet style breakfast open only a few days a week (over the weekend)
Garfield Beach House – outdoor buffet along the beach serving hot Jamaican cuisine
West End Terrace – outdoor poolside kitchen serving Western style finger food for lunch including burgers, hot dogs, sandwiches, burritos, fries, etc.
Beans Gourmet Coffee Shop – open throughout the day for coffee, tea, light cakes and fruit as well as soft-serve ice cream, situated in the main lobby
During our 7-day vacation, we managed to try all the main dining spots on the property. We used the resort's own GA Azul Beach Negril app (available for Apple and Android) to find out each of the restaurant's schedules – as they have different days they're open – and booked our reservations either through the app or at the front desk.
We found the food at theà la carte restaurants to be of average quality apart from some items on the menu. At the Di Romagna, for example, their steak with blue cheese sauce was one of the best we've ever had. Hua Hin had pretty great food all around and we made a reservation to go a second time. But one let down at eachà la carte restaurant – also with room service – was that they were always out of at least one item on the menu – whether it was snacks, appetizers or dessert.
Contrary to what we usually think, the buffet options actually provided us with better food – in our opinion. We tried the Mahogany for dinner one night for a seafood buffet and man it hit the spot! The grilled lobster was one of the juiciest and well seasoned I've had and you could go back for seconds.
We managed to make room for lunch one of the days and checked out the Garfield Beach House. The authentic Jamaican food here was incredibly flavourful and well cooked. But best of all was the Seafood & BBQ Buffet that is held every Wednesday at the main pool, no reservation is required, and the food was deeeeelicious! The dessert station also had a made-to-order banana flambé/crêpe bar which was definitely a bonus to all the amazing sweets and elegant pastries they already had laid out.
Azul's food options were by no means high in variety. Another thing to think about is that each restaurant, if you want to order a different bottle of wine on top of the other cocktails, drinks and house wines they offer, it'll be an extra charge. They have a list of the wines with prices for each that you can choose to order with your dinner. But one thing I have to give Azul is that their quality of meat is among the best, and their Jamaican food made me crave the cuisine every day!
Azul's Swimming Pools
The pools are definitely not the main emphasis of the resort. They're there for a cool dip and are great if you have a swim-up suite, but they weren't something that impressed us. After all, Azul is a relatively small beachfront resort. One advantage about the pools not being the centre of attention was that they were often a quiet place for us and were not busy at all. Each pool has its own swim-up bar which is fantastic for us lazy folk who don't want to spend a couple minutes walking out of the pool to grab a drink (haha, but seriously).
The pools are all well shaded and each one is slightly different from the other depending on the building it's in front of. You also get your own view of the ocean from the poolside if you snag one of the lounge chairs from the beach.
Negril's Seven Mile Beach at Azul
Azul makes it easy to access the beach as its floor plan is set right along a strip of the beach and they didn't build further inland. So no matter where your room or suite is on the resort, you're just a short walk away from the shore. This is one of the top reasons why I find Azul to be a great choice in beach resort destinations for those visiting Jamaica. You're always so close to the beach and you're likely to get a view of the ocean right from your bed!
I absolutely loved how calm the waters were here even at the beginning of November, when Jamaica's rainy season is still lingering. Sunrise was a beautiful time to come out and so was sunset! We loved the unique egg-shaped cabanas that we nested in when it got sunny, but most of the time we were out in the sand or in the water.
One thing you may or may not like about the beach is that there will be boats along the shore. Some are for fishermen, others are for us tourists who want to head out on excursions or just hop on for some water activities like parasailing or towed tubing. Some might find the boats obstructing, but I found that they made for great photo ops during sunset!
On-Site Activities
I feel like having complimentary non-motorized sports is a must at beach resorts. Well Azul delivered on that part! At the sports centre near the Garfield Beach House, you could put your name down for 30 minutes of free kayaking, standup paddle boarding, boogie boarding and sailing! So almost every day, we took the opportunity to head out to the waters for some active water sports. They say only 30 minutes, but honestly they were quite flexible on the amount of time you were out there!
Boogie boarding would've been tough on these calm waters, but we spotted a few sailors out there catching wind! Jason and I stuck to things we could do, i.e. the SUP and kayak. Snorkeling gear was also available but there wasn't much coral out in the waters for us to see any fish. Though on one of our kayak trips we did spot a big starfish chilling at the bottom of the water!
Azul's Top Tier Service
I've been to resorts enough times to know what good service is. And the staff at Azul Beach Resort provided GREAT service! They were incredibly engaging, kind and always remembered your name. I was highly impressed! They also managed to remember our drink orders or knew what we liked after only a few days of us being there. Tip them well while you're there – they deserve it!
This post is written in collaboration with Karisma Hotels & Resorts after a PR stay at Azul Beach Resort. All opinions are my own.