Kananaskis Nordic Spa: Alberta's Premier Spa Experience
Looking to unwind and pamper yourself amidst the fresh air and breathtaking atmosphere of the Canadian Rocky Mountains? Just an hour away from Calgary and an hour from Banff, nestled in Kananaskis Country, is the mountain resort of Pomeroy Kananaskis Mountain Lodge, Autograph Collection. The Kananaskis Mountain Lodge is home to Alberta's very first Scandinavian hydrotherapy experience, the Kananaskis Nordic Spa, and you could absolutely spend your entire day here blissfully moving through the therapeutic circuit of hot, cold, rest, repeat!
The Kananaskis Nordic Spa is a luxury oasis hidden away in the mountainous scenery, which provides a completely immersive experience in this alpine retreat. The entire spa is set outdoors so you'll never take your eyes off the unreal backdrop that surrounds you. Whether you've just finished up with a day skiing or snowboarding at Nakiska, or you've completed a marvellous hike, the Nordic spa is likely the first place on your mind when envisioning some well deserved RnR. The great thing is Kananaskis Nordic Spa is open all year-round and every day of the week, so you'll never miss an opportunity to soak in the elements.
This post is written after a sponsored stay and experience at the Kananaskis Mountain Lodge. All opinions are our own and stay true to our honest experience. This post also contains an affiliate link which means that if you book this accommodation, we may make a small commission at no extra cost to you. Thanks so much for supporting our blog!
Kananaskis Nordic Spa Facilities
With five pools, four saunas and two steam rooms, you could be spending hours flowing through the hydrotherapy loop. The technique borne of the ancient Nordic ritual consists of dipping into the hot pools, opening up your pores and sinuses to the heat of a sauna or steam room, taking a cold plunge, then resting in the open air or in the warmth of an insulated hammock before repeating the course two to three times.
The Main Spa Lodge
The Kananaskis Nordic Spa entrance can be accessed from Kananaskis Village directly from the public parking area, or if you're staying at the Pomeroy Kananaskis Mountain Lodge, it's a short few steps outdoors from the lobby – keep reading to learn more about staying at the lodge.
You'll cross a short wooden bridge that leads you to the top floor of the main spa lodge. Here you'll receive a warm welcome from the friendly staff and have a peak at their retail reception before checking in. Their shop includes big brand names like Lululemon, local Albertan brands for wellness and apparel, as well as Kananaskis Nordic Spa's very own line of products. If you love the products you use throughout your spa time so much, namely your soft and luxurious Tartan robe or the exfoliating scrub, you'll have the opportunity to purchase your own to use at home! And if you forgot to bring a swimsuit, there are great options available here like Londre's swim line.
The spa lodge reception extends to an open seating area for dining and opens up to a huge waiting area with cozy upholstery and a fireplace. The windows of the living space open overhead when the weather is warm. It's the perfect place to relax in while waiting for the rest of your party to arrive, or between a massage treatment and your time at the spa, while enjoying a drink or bite to eat. Book yourself a massage and you'll have complimentary access to the hydrotherapy spa for the day!
The Locker Rooms
The locker rooms are located downstairs from the reception. Upon checking in at the spa, you'll receive a waterproof wristband, either red for women or blue for men, with a locker number inscribed on it. The RFID chip inside will allow you to open your assigned locker effortlessly. No need to worry about keeping manual keys on you or memorize digital codes (and your locker number). Just be sure to not remove your wristband during your visit.
The lockers are spacious and provide you with your own signature Tartan robe which will keep you warm and dry between dips in the pool, waterproof sandals to protect your feet around the facilities, a towel and a container filled with their seasonal salt scrub which you can use during your visit or take home with you. After getting dressed, you can head to the private shower stalls to rinse off before entering the outdoor spa. If you've forgotten a hair-tie – or perhaps a last minute shave or tampon – the shower section is fully stocked with amenities you might need.
Be sure to leave your phones and cameras in your locker as the hydrotherapy spa is a cellphone-free space. We were visiting KNS for a creator summit with MODERNSPEAK outside of opening hours and captured the content that allows us to share our experience with you! Give yourself the opportunity to completely disconnect and seize your spa day without interference.
The Pools
The five pools all differ in temperature and ambience. The Hot Pool is incredibly invigorating at 35-40°C (95-104°F). The pool's two levels allow more than one group of people to take advantage of the heated water, while water from the upper section cascades down into the lower more intimate pool, evoking calmness.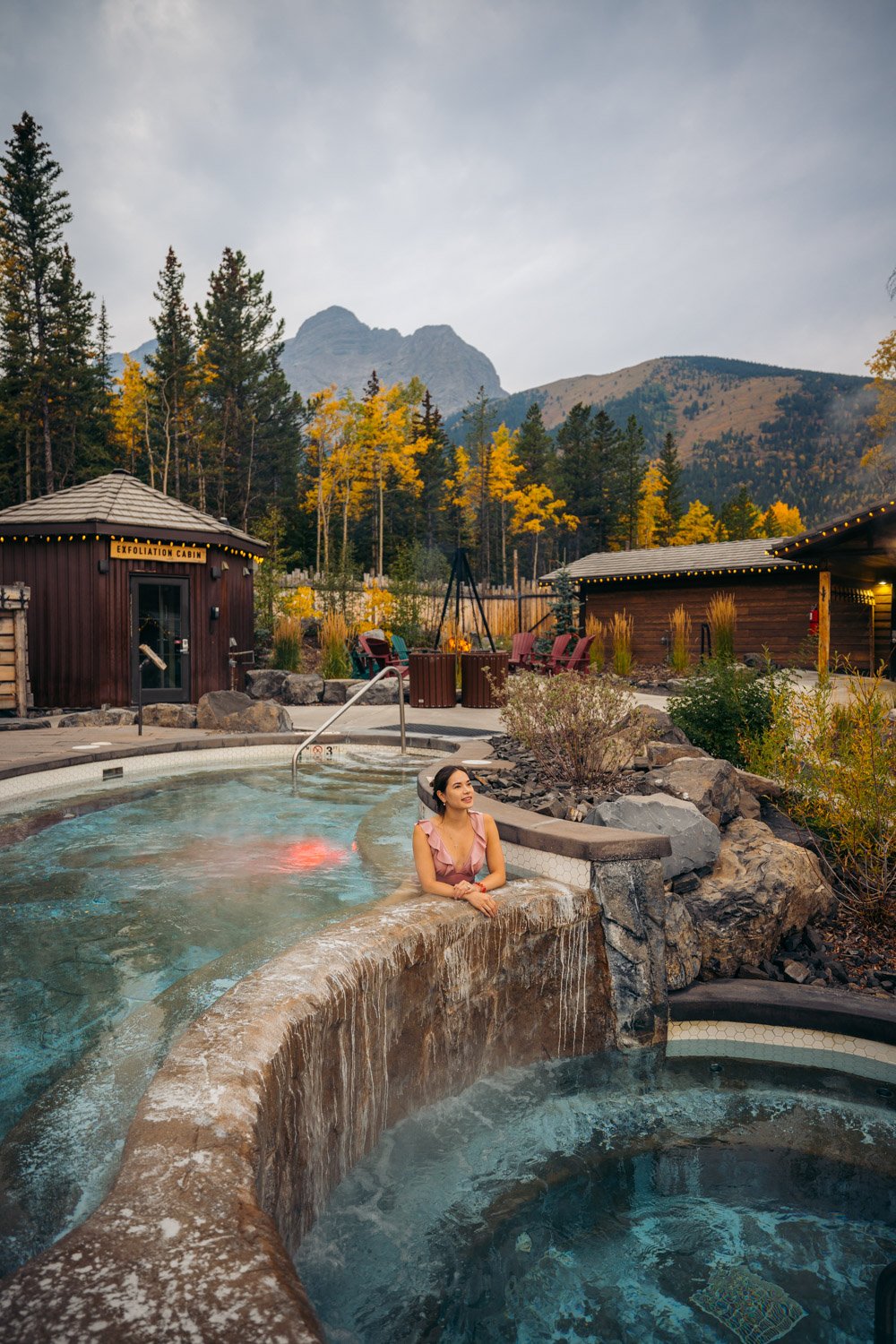 The Salt-Water Float Pool, or Elements Pool, is the other hot pool with a cylindrical fountain at the centre. It's certainly one of the more energizing spots to hang out with your crew during your hot cycle, and the two barrel saunas are placed on each side of the circular pool so you can always escape for some for quiet.
The Gathering Pool is the largest and is most ideal during the rest phase if you're hoping to socialize while taking in the open mountain views. Like the Hot Pool, it's divided into a lower and upper section, giving all the more room to roam around while getting your body to stabilize in the warmth of 32-38°C (90-100°F).
The Quiet Pool, or Reflections Pool, is the last warm/hot basin, nestled between the Two Trees Bistro and the spa lodge, facing some of the Mountain Lodge balconies that overlook the spa. It certainly suits its name with how quiet and tranquil it is here, and both sections of the pool provide luminescent reflections.
You can't leave your spa day without immersing yourself, shoulder to toe, in the Cold Plunge. It can be a little daunting having the 5-10°C (41-50°F) water rise to wrap around your whole body, especially in the winter, but trust me, your muscles will thank you later. Just step in all the way, count to ten, take deep breaths and embrace the tingling sensation all over you as you feel your senses heighten and your mind clear. You'll notice that the longer you stay in while keeping your breathing rhythm slow and steady, the easier it gets! Circle around the water spout and come out the other way before finding your next spot for the rest cycle.
The Saunas & Cabins
The saunas and steam rooms are among my favourite amenities of the Nordic spa. Maybe it's the immediate benefits I start to feel – the cleared congestion, improved blood circulation, skin softening and stress relief, to name a few. But I have to say that Kananaskis Nordic Spa does a tremendous job of maintaining their facilities, keeping them clean and immaculate to a high standard. This is something that further brings out my feeling of comfort and ease, and makes for an experience that I have no desire to leave.
The barrel saunas are definitely the more cozy choice. If you want a private moment by yourself, you'll often be able to get one here. There are two onsite, one of them being an infrared sauna. Have your pick and alternate between the two if your heart desires! These two saunas have the subtle scent of cedar that reminds you of where you are in the mountains and adds to the feeling of warmth and being in a homey place.
The Finnish Sauna is the largest of the four, and the dry heat is incredibly inviting. It's the only sauna that doesn't have any water on the side to pour over the hot rocks. The Finnish Sauna is a personal favourite of mine because the woodsy smell is so refreshing with there being less humidity.
The Russian Banya Sauna boasts a traditional yet refined experience as well, and contains a pail of water (with a faucet for refill) and a wooden spoon to use in the case where you'd like to pour it onto the rock stove for some extra steam. It's a formidable option if you prefer more space than the barrel saunas.
The Steam Cabin is my all-time favourite place to be in order to completely open up my pores and sinuses. It consists of two large steam rooms: the Eucalyptus Steam Room on the left and The Alchemist on the right. The Eucalyptus Steam Room releases – you guessed it – a eucalyptus aroma that does wonders for congestion and stress. It's lighter on the steam and heat, whereas The Alchemist is heavier. When entering the latter steam room, it feels like you're walking into a thick cloud which allows your other senses to take over through the rejuvenating experience. This steam room also provides subtle aromatherapeutic scents that change seasonally, so every time you visit the Nordic spa, you might get a different experience.
When you feel your body temperature rise in the steam rooms, you can always pull down the plunge bucket over you to dump however much water you need to cool down and refresh. There's also a drinking water station within the entryway of the Steam Cabin to replenish your hydration.
The final cabin in the outdoor spa is not a steam room but a room for exfoliation. It's meant for the very last step in your Nordic spa ritual. Once you're ready to finish your spa day, head back to your locker to grab the provided body scrub and bring it to the Exfoliation Cabin. Here you'll find a beautifully modern hexagonal chamber with four shower heads and a large bench all around. Because it's a public space, you can have your partner or friend help you scrub the harder-to-reach spots on your back.
Exfoliating your body regularly has amazing benefits, externally and even internally. It helps slough off any dead skin while moisturizing the new layers which helps prevent acne and ingrown hairs, it evens out your skin tone, boosts circulation beneath your skin as well as lymphatic drainage and stimulates collagen renewal which is important for anti-aging. Don't skip this part in your self-care routine with Kananaskis Nordic Spa – you can always do so at a later time if you decide to bring home your scrub!
Two Trees Bistro
Rest is a crucial part in the Nordic spa circuit. Whether you're dozing off in a cozy hammock, chilling by the fire cauldron, or wading in the warm pools, you're giving your body the rest it needs. But spend more than a few hours at the spa and your body might be craving for food!
Two Trees Bistro offers a welcoming dining experience that allows you to get snug on the couches in the comfort of your luxurious bathrobe. They offer light meals and drinks that will complement and enhance your spa day and you can do so at any point during your visit. Comforting small plates, power bowls, shareable boards and handheld bites are always found on the menu throughout the year. When the spa gets busy, the wait times for dining might take longer so be sure to put yourself on the waitlist as it's "first come first served". Pagers are provided to notify you that your table is ready!
If you're hoping to book a private event for your group of ten people or more, you'll be able to indulge in different food items depending on what meal you may be hosting at Two Trees Bistro. A light breakfast served with coffee, teas and juices was provided for our sunrise meet-up at the spa.
Kananaskis Mountain Lodge
If you're considering combining your Nordic spa day with a relaxing stay in this mountain retreat, Kananaskis Mountain Lodge has some worthwhile packages that provide value for both spa and hotel guests. As an Autograph Collection resort, KML also welcomes Marriott Bonvoy members and has various perks for their Elite status guests.
Both the entrance and exterior of the Kananaskis lodge does not go left unnoticed. It certainly presents itself well as a Category 6 Marriott hotel, and you can immediately tell from the finesse in the staff who greet you to the grand and elegant atmosphere that invites you. The tasteful impression remains when you make your way through the hotel to your room or suite.
Book your own stay at the Kananaskis Mountain Lodge!
Guest Rooms & Suites
The Pomeroy mountain lodge has stunning rooms and suites throughout their property, all with cozy, newly renovated finishes and touches that are both rustic and refined. Some of their more popular guest rooms are their one-bedroom bi-level luxury lofts, where the bedroom is on the mezzanine and the living room is the main floor, while both levels each have a full bathroom. We had the pleasure of staying in their Deluxe 1 King Room (#3095) which was incredibly spacious at 600 sqft for the two of us. The Deluxe Room on the top floor also features a delightful mountain view.
In addition to the incredibly comfortable bed with deluxe linen, there was quite a bit of seating in the living space that we could even host our own board game night in the room if we wanted. The TV was certainly sizeable and sat on a large credenza that was perfect for miscellaneous storage of larger items.
The bathroom was standard and on the tighter side which opened up more area to the rest of the room. But I admired the fact that the large bathroom door was shared with the closet, creating fewer obstructions.
It's a completely open concept with few walls, but a large circular mirror (which serves as a light on the other side) separates the entryway counter-space from the bedroom. Here's where we made coffee with our beloved Nespresso machine. I also wanted to give some love and recognition to the brand details Kananaskis Mountain Lodge put into the wooden stir sticks. How cute!
Dining at Cedar Room
The resort has a number of dining spots on property that I encourage you to try during your stay or day visit to KML. From a morning grab-and-go at The Market Café, to a wood-fire baked Italian meal at Forte, followed by a fancy seasonal steakhouse dinner at Cedar Room, you'll never go hungry.
We had the pleasure of trying some of their autumn favourites on the menu at Cedar Room and I have to play that my tastebuds were elated. Some of the bite-sized dishes we got to try included the:
PAN-ROASTED DUCK BREAST with duct fat roast squash, fried Brussels sprouts, caramelized honey & rhubarb jus
CREAMED ESCARGOT & MUSHROOMS with sherry reduction, grilled sourdough, pickled red onions, grizzly gouda and black garlic emulsion
ALBERTA GRASS-FED BEEF TARTARE with capers, shallots, egg yolk, grainy mustard, Nostrala cheese and kettle chips
CHICKEN LIVER & FOIE GRAS PÂTÉ with picked cherries, brioche and port wine reduction
I have to admit, they melted in my mouth and lived up to their French names while maintaining a connection to their locality. Cedar does a fantastic job of bringing Albertan ingredients to a whole new level and shifting the seasonal flavours to the forefront depending on the time of year.
Continuing our journey through an autumn food palette, we were blessed with a hearty Tomahawk steak which was extremely tender and juicy. The house-made sauces and jus as well as the side dishes – maple-roasted carrots with smoked bacon lardons, mashed potatoes with chives and fried Brussels sprouts with cider vinaigrette – complemented the meat so well.
The cocktails and mocktails they serve are top-notch and come from the Blacktail Bar. Again, they prioritize utilizing local ingredients, even harvesting aromatic elements from the property. The team is constantly coming up with new twists on classic drinks and we got to try a special gin/Aperol mixture with strawberry and pine that they had just concocted that morning. My favourite drink of the evening was The Escobar which is currently on their drink menu only for the season so I hope you get to try it before it's gone! It's the perfect blend of pineapple rum, coca leaf liqueur, aloe water, green matcha tea, green chili, cilantro and citrus. The Escobar has a bit of a kick while being sweet, sour and creamy all at the same time!
We ended our dining experience in the Cedar private room with the warmth of a unique spin on the Old Fashioned that embodies Canadian joie de vivre: the S'mores Old Fashioned. Personally, it's the best Old Fashioned I've ever had. It's much sweeter and less bitter than the classic, which is certainly an attribute as to why I loved it so much. I was pleasantly surprised and enjoyed watching the marshmallow light up before being turned over to envelop the glass with sugary, smokey goodness. Being able to later munch on the roasted marshmallow and graham cracker is an added bonus!
Fireside Moments & Resort Amenities
Speaking of roasted marshmallows, the Kananaskis Mountain Lodge offers a complimentary experience for their guests that is unique and Canadian, perfect for the mountainside. As a member of the Autograph Collection, KML decided to make Fireside Moments their "MARK of Craft", inviting guests daily at 6pm-9pm to their large outdoor fire pit. Here we can roast up however many marshmallows we'd like and create our S'mores sandwiches while listening to live music fireside. It's a cozy way to end the night if I say so myself!
The mountain lodge offers further amenities on top of the S'mores experience for guest use – a fitness centre, an extensive indoor waterpark (I had fun going down all three slides), a steam room and an indoor/outdoor hot tub. For this reason, they do charge a mandatory $25 CAD resort fee per night per room. I find it's a small price to pay to stay in this pocket of paradise. Make the most use of your time here and you won't leave with regrets!
---
I'm already planning for my next escape to Kananaskis Nordic Spa & Mountain Lodge, hopefully when winter rolls around! The spa truly is one of its kind in Alberta and I'm all for indulging in some serious hydrotherapy in one of the most gorgeous areas near home in Calgary. If you haven't yet visited, then I hope this post encourages you to give it a shot! And if you're looking to cut down on costs, make sure to check out their stay packages and/or visit the spa on weekdays to also avoid the rush.
Though parking is free in the public lots that are in short walking distance from the lodge and spa, a Kananaskis Conservation Pass is needed for all vehicles stopping (that includes guests) in Kananaskis Country and provincial sites in the Bow Valley Corridor. To purchase your pass, you can head to alberta.ca.
Like this post? Pin it!